SMD Partner Newsletter – Aug 17th, 2009
To all SMD Partners:
July marked the single biggest month in the history of SMD - http://stevemeadedesigns.com had over 32 million hits and 48,000 unique visitors dropped by! More importantly, SMD is on a growth curve with no signs of slowing. As of this writing, SMD is now a community of 9,400 plus enthusiasts - your core demo! If you're already signed up as an SMD Partner, then you know the power behind this community and how it can affect traffic, sales, and acceptance of your product.
SMD Community Excitement
July Re-cap
Second Skin's July give-a-way came to a close. Second Skin owner Anthony Collova (ANT) again went above and beyond and awarded 15 SMD Members that entered the give-a-way, when his guidelines said TEN ONLY! In exchange for free product, he asked these members to post pictures of their installations and give a short review of the product. The Second Skin forum (CLICK HERE to access) has countless threads in regards and new ones are added daily.
DC Power stepped up BIG in July for the System of the Month (SOTM) and put up a 250 - 300 Amp alternator to be given to the winner. Johnathan Price earned the respect of his peers and claimed it with an over the top installation in his 1998 Tahoe. Voting for SOTM in August eclipsed the July turn-out, with 271 votes recorded. CLICK HERE to access the results.
August
SOTM continues to be a huge opportunity for SMD Partners. SOTM is wildly popular with SMD Members, so the forum is always buzzing with activity. Sponsoring the SOTM is an excellent way to get good will with SMD Members, get highly coveted ad space, and get their attention. Darvex is the SOTM sponsor for this month, nominations were in early, and the lucky 15 SMD Members that are competing have been chosen. I have an SOTM sponsor lined up for September, but open after - if you'd like to sponsor a future SOTM, then let me know so we can work out the details. Remember, this is included in all SMD Gold & Platinum Partner packages!
Second Skin chose to do a third consecutive monthly give-a-way for August, and ANT is again limiting recipients to 10 . . . of course, one just never knows what he'll actually do! SMD Members have responded quickly and ANT will announce the winners very soon. CLICK HERE to access the thread in regards.
Q-Logic has come into the forum with a smokin' deal that many SMD Members have already taken advantage of. CLICK HERE to read the full details. In addition, Q-Logic also created a landing page that directs members and visitors of SMD to a special page when they click on any of the Q-Logic banners. This page outlines the specifics of the special available to SMD members - smart, really smart! Notice that their banners call this out as well:
SMD Members continue to add banners of SMD Partners to their signature line - many even including hyperlinks to the web sites. This just goes to show how much SMD Members have embraced the addition of SMD Partners and how they want to support those that are supporting SMD!
SMD Partner Announcements
We continue to be methodical with SMD Partner additions. It is not our intent to turn SMD into an ad space; rather, we want to add value to the community every step of the way. To that end, we are pleased to announce the addition of XS Power and Rockford Fosgate as SMD Partners!

Steve has been using XS Power batteries in his personal vehicles and builds for some time now so this partnership was a natural. Incidentally, XS Power's new web site was launched just about the same time that they signed on. They have used this to their fullest, directing SMD Members and visitors to come check it out. Since the first of the month, the XS Power forum has been buzzing with activity and many SMD Members are trying to figure out exactly which one of their batteries is right for them. Knock 'em dead Scottie!
Rockford Fosgate has been Steve's amp of choice for a very long time now. Rockford Fosgate recently struck a deal with Steve to outfit his world famous Tahoe with all their best gear. CLICK HERE to access the build thread. Keep in mind that this thread has only been up since the 12th of August and it already has 8,400 views! In addition to the build thread, Steve has put up a total of EIGHT videos to his You Tube Channel in regards - currently, views between these vids total 65,000 views in just two weeks. Rest assured, these are impressions that help viewers to decide which brand is the brand to buy . . . "If Steve runs it in his Tahoe, then it's gotta' be good enough for me!"
We are currently working on several new SMD Partnerships. If you know of a company that you feel would add value to the SMD Web Community, then don't hesitate to let me know so that I can contact them. I'd like to give special thanks to ANT at Second Skin, Robbie at DC Power, and Bill Basore of Q-Logic for really stepping up their games and helping us to create excitement within the SMD Community!
SMD Member Newsletter
CLICK HERE to read this month's newsletter – you'll have a better understanding of exactly what it means to be an SMD Partner! Monthly newsletters continue feature excitement within the community, highlight SMD Members, announce special programs or opportunities available to SMD Members, and of course SMD Partners. The August Member Newsletter went out to approximately 9,300 SMD Members.
SMD Web Community Growth
This month's snapshot. Since the last newsletter went out on the 21st of July, the following are true:
Steve has added 26 videos to the SMD You Tube Channel, bringing the total to 271
Over 2,600 NEW users have subscribed to the SMD You Tube Channel, bringing the total number of subscribers to over 20,000!
Video Views are averaging 80,000 a day!
Total Video Views are at 23.7 Million, an increase of 2.15 Million!

Check out the following graphs from You Tube that show number of daily views - still unbelievable: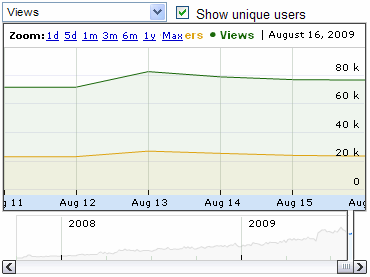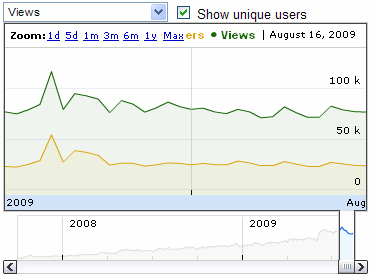 Over 504 new friends have joined the SMD myspace community, bringing the total to 8,757!
Over 765 new friends have joined the SMD facebook community, bringing the total to 1,609!
SMD on Twitter doubled it's followers to a total of 410!
SMD.com membership is approaching the 10,000 member mark!
SMD.com membership has increased by 530 members, bringing the total to 9,445!
These are staggering numbers by anyone's standards - SMD Partners continue to capitalize on the incredible traffic that the SMD Web Community gets!
Click any of these buttons to go directly to that part of the SMD Web Community:
SMD Central was updated on August 6th. Your Login and Password allows you to access complete and up to date traffic statistics and demographic data at your convenience. If you don't have access, let me know and I can get you set up in a matter of minutes.
SMD Partners will continue to enjoy capitalizing on the growth of the SMD Web Community! If you're currently not signed on as an SMD Partner, but received this Newsletter . . . we'd love to have you join the SMD Web Community. Contact me for more details in regards.